Saint John, NB – 13 May 2019 – InteliSys Aviation is thrilled to welcome Rick Saggar to its growing worldwide Sales Team in his new role as Vice President of Sales for Europe, the Middle East, Africa, and India. In his new role, Rick will be taking charge of customer acquisition and retention throughout his designated region, working to partner full-service, low-cost, and hybrid carriers with InteliSys so these airlines can grow and prosper.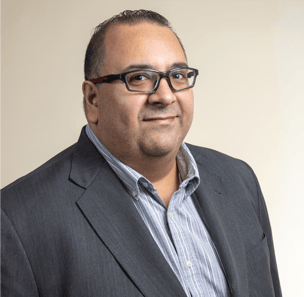 "The InteliSys approach is to partner and understand what each airline needs and then to execute the right distribution approach to grow airline revenue, visibility, and yield for continued success. I build success for organizations on account of my dedication to always innovate and find the best way to approach any issues."
– Rick Saggar
Rick's primary goal is to prove to InteliSys' clientele that the company isn't just a service provider: InteliSys is a long-term partner that works tirelessly to ensure the success of its airlines. By helping airlines implement the right set of technology solutions, Rick will help carriers open multiple sales channels and take advantage of today's globally connected world.
"I am very excited to have Rick join our team as he came highly recommended as one of the most knowledgeable individuals in the commercial side of airlines. Rick's extensive background in airlines and distribution providers will prove to be great assets in the key role he is taking on at InteliSys. His 25 years of aviation experience will help our current and future customers to optimize and grow their airlines."– Frank Kays, InteliSys Aviation CEO
Rick has more than 25 years of experience within the airline industry. Having worked in the commercial and distribution functions of many airlines, he has developed a keen insight into what it takes for airlines to gain market footholds and grow. He's worked for various carriers, airports, and technology companies across the United States, United Kingdom, and the Middle East, including tech giants Travelport and Hahn Air. His expertise encompasses stakeholder engagement, sales channel development, forging mutually beneficial alliances, commercial transformation, and so much more.
"I believe InteliSys is on the cusp of doing something really big and I'd like to be part of that success. Having followed the company for a number of years, I really do think that the product is at the level at which we can compete very well with some of our peers in the industry – so it's time to take some market share." – Rick Saggar
About InteliSys Aviation
InteliSys Aviation specializes in providing simple, secure, and scalable software solutions in a cloud-based, open-data platform for airlines around the globe. The ameliaRES and ameliaCARGO systems are utilized worldwide by more than 40 clients spread across 6 continents as robust reporting tools, passenger, cargo, and airport management systems, and as a critical means of connecting carriers to a global audience via its API suite and industry partnerships. InteliSys caters to the specific needs of airlines of any size or business model, including low-cost, regional, and hybrid carriers as well as corporate flight operations.
To find out more about InteliSys Aviation, visit the company website: www.intelisysaviation.com.
InteliSys Aviation Contact
Nikki Falavena
Director of Marketing
nfalavena@intelisysaviation.com