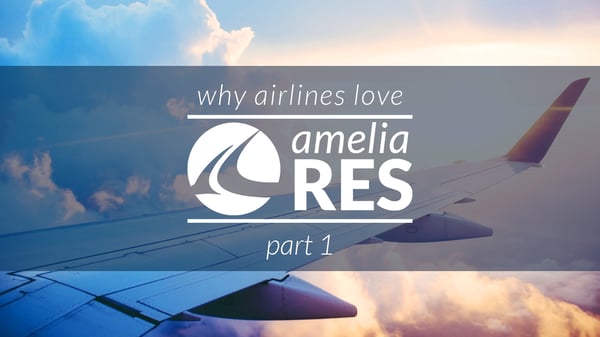 Between fierce competition and constantly changing market conditions, the airline industry is easily one of the most demanding business sectors in the world. Volatile economic conditions and fuel prices, corporate mergers, governmental regulations, environmental concerns, and rapid technological advancements are just a few of the hurdles airlines must jump while reliably delivering a superior product to wow their passengers.
So, despite all of these daunting challenges, how do you – as an airline owner, CEO, CCO, or CIO – ensure the profitability of your airline while delivering amazing passenger experiences?
The answer: by having the right tools and proper team support through your Passenger Service System (PSS).
How Does ameliaRES Help Airlines Grow?
---


ameliaRES allows airlines to open sales channels, diversify revenues, & boost profitability
Sales opportunities are never more than a call or click away for your passengers through the ameliaRES Sales Ecosystem, which provides six major categories to market your airline's ticket and ancillary sales.


To further diversify your revenues and boost your profitability, ameliaRES integrates with revenue management and analytics tools that help you make data-based business decisions.


InteliSys Aviation provides your airline with a best-of-breed technological approach that allows you to purchase only the features your airline needs in addition to being able to build custom software solutions with our robust API suite. This approach allows you to increase your airline's revenue streams and IT capabilities while balancing costs.
Driving Revenue for Airlines & Value for Passengers

---

Customers in the modern air travel market have high expectations: they want to want to create their own unique travel experiences from start to finish – not have travel terms dictated to them. By developing and offering enhanced passenger experiences using the right business model and PSS, airlines can transform casual passengers into lifelong, loyal brand evangelists. This metamorphic process starts with airlines asking what more they can do for their customers and broadening the scope of their sales channels.
"At InteliSys, our motto is 'Never Settle' and we see so much opportunity in putting that phrase into action: by making sure our airlines are in all markets globally, that they are selling everywhere, and that they are not leaving revenue on the table."– Frank Kays, InteliSys Aviation CEO
ameliaRES will allow your airline to make a positive impact with your future passengers starting with where and how they like to shop. Our Sales Ecosystem provides six major sales categories for your airline to target your ideal customers and market your offerings:
Direct sales through custom-branded internet booking engines (IBE) and mobile, as well as call center applications.
Connections to 400+ online travel agencies (OTAs) and metasearch websites,
Traditional travel agencies sales through a dedicated web portal or GDS,
Corporate bookings,
API applications, and
GDS sales, including direct connections to Hahn Air and support for interline and codeshare partnerships.


How to Get Started with ameliaRES
---

We at InteliSys Aviation are focused on enabling exemplary airline and passenger experiences. Our signature PSS, ameliaRES, was created as a tool to boost your airline's bottom line, precisely handle the IT needs of your company, and deliver customized, value-added experiences to your passengers. Regardless of the size and business model of your airline, our primary goal is to use our 30+ years of aviation industry expertise to provide you with the guidance, knowledge, and support you need to succeed.
Your first step toward growing your airline begins with contacting our team for a consultation on how to grow your airline. Click the button below, fill out the form, and an ameliaRES expert will contact you soon.

Learn More About InteliSys Aviation

---

Would you like to learn more about InteliSys Aviation and what's going on in the worldwide aviation industry? Be sure to subscribe to our company blog. You can also find us on social media via LinkedIn, Twitter, Facebook, and Instagram.