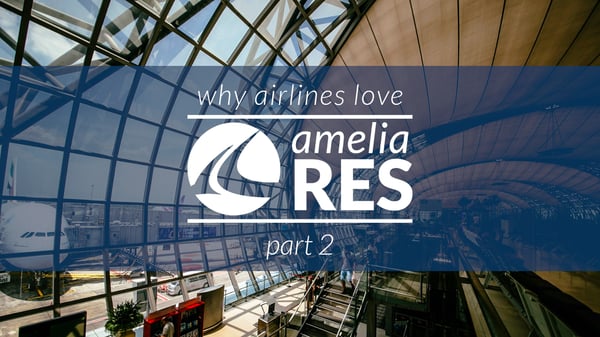 Between fierce competition and constantly changing market conditions, the airline industry is easily one of the most demanding business sectors in the world. Volatile economic conditions and fuel prices, corporate mergers, governmental regulations, environmental concerns, and rapid technological advancements are just a few of the hurdles airlines must jump while reliably delivering a superior product to wow their passengers.
So, despite all of these daunting challenges, how do you – as an airline owner, CEO, CCO, or CIO – ensure the profitability of your airline while delivering amazing passenger experiences?
The answer: by having the right tools and proper team support through your Passenger Service System (PSS).
How Does ameliaRES Help Airlines Grow?
---


ameliaRES is a scalable, secure, & stable PSS
Since transitioning to a fully virtual cloud environment, the ameliaRES booking engine has unlimited capacity to process reservations and is suitable for airlines of any size or business model.


Your airline's needs will change over time, so InteliSys Aviation is able to develop and deliver custom ameliaRES features for your airline as it evolves.


ameliaRES is 100% cloud-hosted, is PCIDSS certified, offers proactive bot control, and boasts greater than 99.99% system up-time.


Leading the Way with Adaptable, Best-of-Breed Technology
---


To best accommodate your customers wants and needs, your airline first has to overcome the technological and infrastructural challenges of meeting those demands. You will need to carefully choose an IT solution provider that offers adaptable and flexible functionality so that you are able to develop your systems as your airline's needs evolve. This, in turn, helps you stay current with market conditions as well as passenger experience expectations.
"A lot of our drive and focus to go to ameliaRES was how agile InteliSys is: how quickly they let us move, how quickly they develop with us, and the opportunities they have given us." – Rob Smithson, Head of Distribution & Revenue, Flair Air
ameliaRES is an open, adaptable system that features a plethora of technological features that will ensure your airline's operations are scalable, secure, and stable through every stage of growth. The system's booking engine has unlimited capacity, full redundancy, and is 100% cloud-hosted via two virtual environments with DR options and no single points of failure, and boasts greater than 99.99% system uptime. It comes fully equipped with the key features you would expect from a PSS, as well as integrations with external applications, and we will work with you to develop custom-built features and tools designed specifically for your airline.
How to Get Started with ameliaRES
---

We at InteliSys Aviation are focused on enabling exemplary airline and passenger experiences. Our signature PSS, ameliaRES, was created as a tool to boost your airline's bottom line, precisely handle the IT needs of your company, and deliver customized, value-added experiences to your passengers. Regardless of the size and business model of your airline, our primary goal is to use our 30+ years of aviation industry expertise to provide you with the guidance, knowledge, and support you need to succeed.
Your first step toward growing your airline begins with contacting our team for a consultation on how to grow your airline. Click the button below, fill out the form, and an ameliaRES expert will contact you soon.
Learn More About InteliSys Aviation

---

Would you like to learn more about InteliSys Aviation and what's going on in the worldwide aviation industry? Be sure to subscribe to our company blog. You can also find us on social media via LinkedIn, Twitter, Facebook, and Instagram.