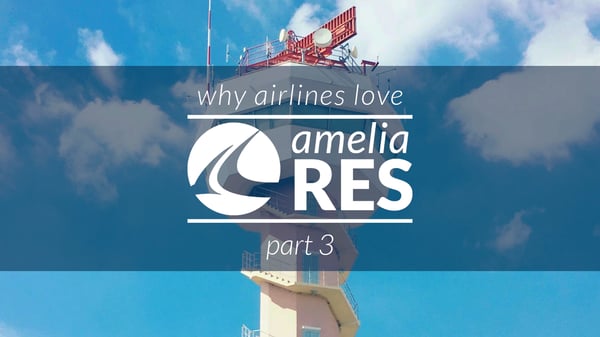 Between fierce competition and constantly changing marketing conditions, the airline industry is easily one of the most demanding business sectors in the world. Volatile economic conditions and fuel prices, corporate mergers, governmental regulations, environmental concerns, and rapid technological advancements are just a few of the hurdles airlines must jump while reliably delivering a superior product to wow their passengers.
So, despite all of these daunting challenges, how do you – as an airline owner, CEO, CCO, or CIO – ensure the profitability of your airline while delivering amazing passenger experiences?
The answer: by having the right tools and proper team support through your Passenger Service System (PSS).
How Does ameliaRES Help Airlines Grow?
---


InteliSys Aviation offers outstanding customer support & worldwide industry connections
InteliSys Aviation provides on-site training with ameliaRES experts who can help configure your system and train your staff to become in-house experts in as little as a week. Plus, we provide cheat sheet manuals to help reduce your training times and assist your staff in learning the core functions of amelia quickly.


InteliSys provides 24/7/365 technical assistance, including a help desk hotline, dedicated account executives and product specialists located in all time zones, and on-site visits. You can reach any member of our staff by phone or e-mail at any time.


Every year, InteliSys hosts the Airline Growth Summit to meet with amelia airlines and industry experts to learn firsthand what the biggest challenges of our clients are and to help the amelia product suite rises to meet those challenges for years to come.


Our 30+ years of experience and worldwide network allows your airline to make crucial industry partnerships that will foster your carrier's growth.


Delivering the Support Airlines Need to Thrive
---


Every airline is as unique as each of the individual customers they serve. A one-size-fits-all approach is a costly and ineffective path to achieve growth. Instead of paying extra for features your airline doesn't need and won't use, choose a solution provider that will work with you to offer a wide variety of functionality options to meet the specific needs of your business model and growth plan. You'll need a partner who will guide you every step of the way.
"InteliSys has been our technology partner throughout our start-up and now through our rapid growth in the airline industry. They were able to deliver the necessary additional functions that have allowed VietJet to quickly capture a large share of the Vietnam travel market." – Le Hai Binh, Director of ICT, VietJet Air
Together, our teams will work to build the right system for your airline and its customers. During this setup, our team of ameliaRES experts will work side-by-side with you and your staff to help you master the system. Whenever possible, we highly recommend on-site training by our experienced, knowledgeable trainers, all of whom were former airline staff and understand the perspectives and challenges of individuals in those roles. For ongoing support and customer service, we offer a 24/7/365 help desk to handle all your queries by phone, email and direct messages. Our team is also available for additional on-site visits.
How to Get Started with ameliaRES
---

We at InteliSys Aviation are focused on enabling exemplary airline and passenger experiences. Our signature PSS, ameliaRES, was created as a tool to boost your airline's bottom line, precisely handle the IT needs of your company, and deliver customized, value-added experiences to your passengers. Regardless of the size and business model of your airline, our primary goal is to use our 30+ years of aviation industry expertise to provide you with the guidance, knowledge, and support you need to succeed.
Your first step toward growing your airline begins with contacting our team for a consultation on how to grow your airline. Click the button below, fill out the form, and an ameliaRES expert will contact you soon.
Learn More About InteliSys Aviation

---

Would you like to learn more about InteliSys Aviation and what's going on in the worldwide aviation industry? Be sure to subscribe to our company blog. You can also find us on social media via LinkedIn, Twitter, Facebook, and Instagram.