On November 13, Airline Ratings (AR) announced its winners of the 2019 Airline Excellence Awards (AEAs). These awards acknowledge the most outstanding airlines worldwide in order to help passengers make informed decisions when booking air travel.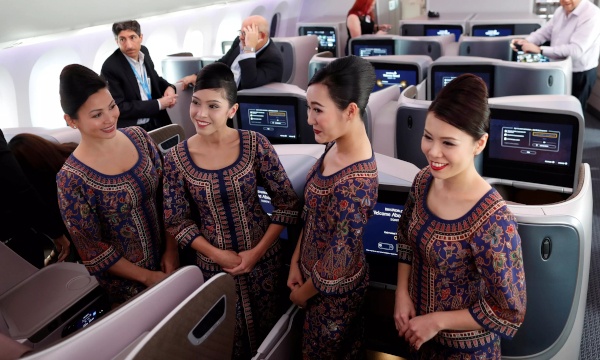 Singapore Airlines added AEA 2019 Airline of the Year
and Best First Class to its long list of awards (Source: Nikkei Asian Review)
Every year, a panel of seven devoted AR editors with more than 200 years' combined industry experience pore over every relevant detail to rate the world's best airlines. Awards are given across 24 categories, in which the AR panel examines 12 key criteria, including factors such as fleet age, passenger reviews, airline profitability, investment ratings, product offerings, staff relations, safety reports, government audits, and more. Only those acclaimed airlines that receive a seven-star ratings - one from each editor - qualify for these exclusive awards.
Read on to learn about 10 outstanding airlines that took home at least one award at the 2019 AEAs!
---

Airline of the Year & Best First Class - Singapore Airlines
Singapore Airlines (IATA: SQ) was named the 2019 Airline of the Year for its stellar product offerings and innovations, winning a narrow victory over the 2017 and 2018 incumbent, Air New Zealand.
SQ is, in fact, the most awarded airline in the world for its unparalleled commitment to service excellence and passenger experience. Their website proudly features a litany of awards dating back to 2000.
When asked why SQ won Airline of the Year, AR Editor-in-Chief, Geoffrey Thomas, commented "[SQ has been] one of the standouts in the industry for decades. It has returned to its best with new products, new aircraft, and new innovative flights, such as the Singapore-New York non-stop. Quite simply, the airline is the gold standard."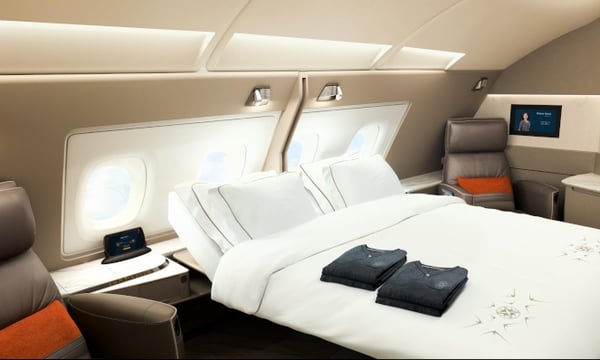 SQ has both double and single suites in its first class, offering passengers
an experience akin to a hotel stay above the clouds. (Source: The Independent)
The Best First Class award was given to SQ for its stunning and luxurious suites, which are individual cabins that offer first-class passengers private space with sliding doors, window blinds, separate leather seats and stand-alone beds, hundreds of electronic entertainment options, and restaurant service provided by internationally renowned chefs.
SQ operates with a fleet of 117 aircraft that will soon connect to 137 global destinations across 37 countries and territories.
---

Best Business Class & Best In-Flight Catering - Qatar Airways
Qatar Airways (IATA: QR) was the dual winner of both the Best Business Class and Best In-Flight Catering awards. When you examine the amenities offered in its business class, it's clear why the airline took home these coveted trophies.
QR's all-new Q Suite business class offers its passengers private "pods" brimming with special features, such as lay-flat beds, sliding doors, an HDMI touch screen monitor with thousands of in-flight entertainment options, and ample storage. Passengers are also treated to a premium à la carte menu complemented by a wide variety of award-winning beers, wines, and spirits.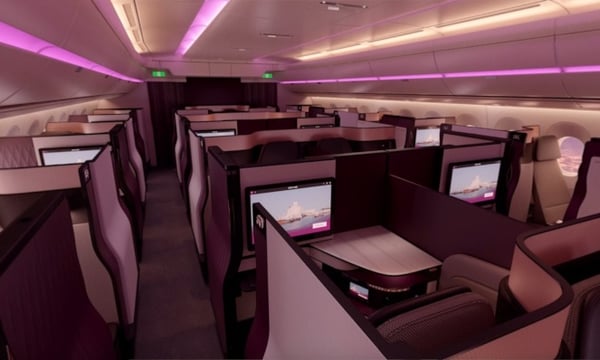 QR's ultra-modern, comfortable, and private Q Suite business class.
(Source: Australian Business Traveller)
"Q Suite is a first-class experience in business class," stated AR's Geoffrey Thomas,"It leaves little to chance and our judges rated it as one of the best overall business-class products they had seen. It sets a standard to which some airlines can only aspire."
QR, the state-owned flag carrier of Qatar, boasts a fleet of 220 aircraft that link more than 150 international destinations throughout Africa, the Americas, Asia, Europe, and Oceania.
---

Best Premium Economy & Best Long Haul Airline, Pacific - Air New Zealand
Comfort is king on all Air New Zealand (IATA: NZ) flights, which is how the airline earned the Best Premium Economy and Best Long Haul, Pacific awards at the 2019 AEAs.
Long haul and premium economy passengers enjoy posh leather seats with full armrests and extendable leg and foot support, a huge 1,700-hour library of digital entertainment with noise-cancelling headphones, and the airline's world-famous in-flight Kiwi cuisine. The airline understands that not everyone can afford business class or better, so it has chosen to mix a little opulence throughout the entire cabin.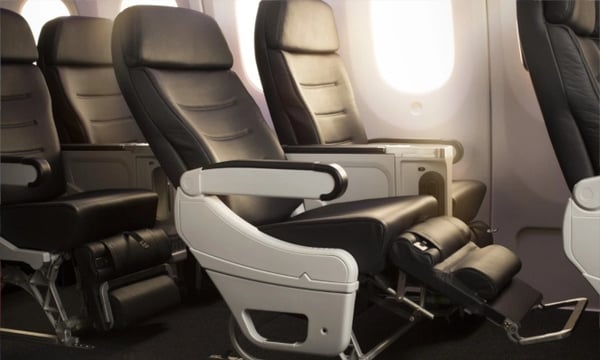 Pictured above are the plush long haul, premium economy passenger seats.
You can take a 360 degree tour of the cabin here. (Source: Air New Zealand)
NZ's passion for airborne hospitality resounds in their long haul mission statement: "Our Kiwi hospitality is probably the best you'll ever experience, especially at 30,000 feet. We live and work by a set of very Kiwi values, approaching everything with genuine enthusiasm. [...] We never stop looking for new ways to bring you a better way to fly."
Excluding its subsidiaries, the NZ fleet is 60 aircraft strong and it connects to 51 locations: 20 domestically and 31 internationally, including airports in 19 countries throughout the Pacific Rim and the United Kingdom.
** The Best Long Haul Airline awards are given out to individual airlines serving major geographic areas. The other winners in this category include the United States' Delta Airlines for serving the Americas, Taiwan's EVA Air for the Central Asian market, and Germany's Lufthansa for the European region.
---

Best Economy Class - Korean Air
Winning the Best Economy Class award at the 2019 AEAs was another feather in the cap of Korean Airlines (IATA: KE) after a year of massive financial growth.
The airline itself describes its new economy class as having "affordable luxury features [and the] highest quality service from departure to arrival." Passengers are treated to carefully selected Western, Chinese, Japanese, and traditional Korean in-flight meals paired with carefully selected wines, pillows, blankets, and amenity kits for their cleanliness and comfort. Every seat is also comes equipped with power and USB connectivity.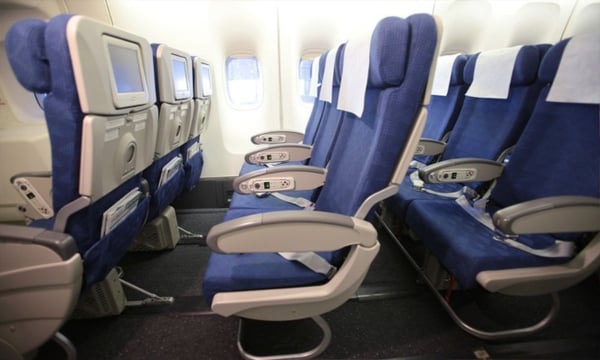 KE's economy class seats are 17.2 inches wide and recline 121 degrees
with 34 inches of seat pitch. (Source: Korean Air)
"The airline's product is outstanding throughout the cabin, but its economy class is a standout with 34-inch seat pitch, which is almost as much as some airlines' premium economy products," said AR Editor-in-Chief, Thomas.
Serving as South Korea's flagship carrier, KE has a fleet of 174 aircraft and offers passenger and freight services to 150 locations throughout Korea, Asia, Europe, the Middle East, and the Americas.
---

Best Low Fare Airline, Asia/Pacific Region - Air Asia Group
The story of the AirAsia Group is one of the airline industry's great success stories: after being founded with just two planes in 2002, the company has seen incredible growth ever since and now services the most extensive travel network across Asia and Australia today.
The carrier has differentiated its product offerings from those of its low-cost competitors by focusing on the tailored experiences it provides passengers. Premium customers, for example, are able to check-in and board early with allowances for extra luggage in addition to free in-flight amenities. This November, the AirAsia Group will be the first low-cost airline to include lay-flat seats for economy passengers, as well.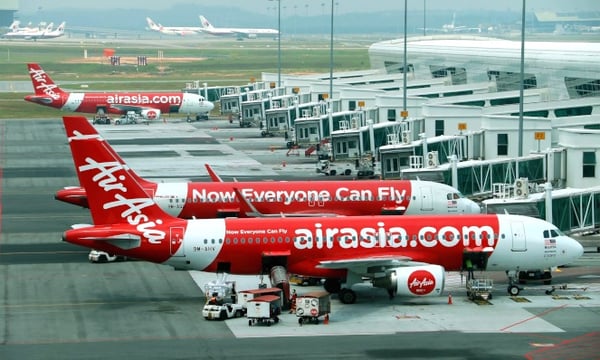 AirAsia considers itself "a people company that happens to be in the airline business
[whose] mission is to attain the lowest cost so that everyone can fly." (Source: Air Asia)
For the past decade, the AirAsia Group has often been named as the world's best low-cost carrier in various travel and international airlines awards.
Including its subsidiary airlines, the AirAsia Group has a fleet of 115 aircraft that fly to 165 destinations in 25 countries.
** The Best Low Fare Airline award is determined geographically. Other low-fare regional champions include Hungary's Wizz Air for Europe and Canada's Westjet for serving the Americas.
---

Best Ultra Low Fare Airline - Vietjet Air
For the second consecutive year, VietJet Air (IATA: VJ) has been awarded the Best Ultra Low Fare Airline award.
Since its maiden voyage on December 25, 2011, VJ has flown well over 40 million passengers, taking the Asian airline market by storm. From the passenger's perspective, this can be attributed to two things: firstly, the VJ business model allows passengers to purchase only their seats on the plane with optional ancillaries available for extra fees (e.g. baggage, in-flight meals, and so on); secondly, the company has an effervescent personality and memorable, fun, and sometimes even zany marketing campaigns. VJ has made travel accessible, affordable, and customizable for an all-new market.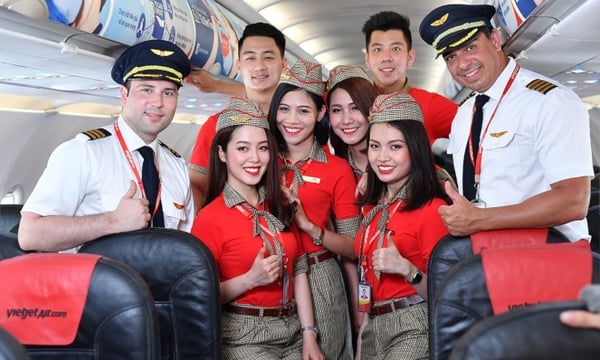 Since being founded in 2011, VJ has quickly risen to the top of the Vietnamese flight market
and has provided millions of affordable flights per year ever since. (Source: Vietjet Air)
In October 2018, VJ was also awarded AR's elite seven-star safety rating, the highest that the organization can give. In the announcement, the AR Editor-in-Chief commented "[VJ] has become an important part of Vietnam's way of life, bringing affordable fares to many. The airline has a very modern fleet of Airbus craft and operationally is now up there with the very best - that is great news for the traveling public and tourists in Vietnam."
VJ currently operates a fleet of 56 aircraft that transport millions of passengers per year to domestic and international locations within the Asian region. As the relatively young airline continues to grow, it plans on expanding service to Australia in the coming year.
---

Best Domestic Service, Best Lounges, & Best Regional Airline - Qantas
Qantas Airways (IATA: QF) had the distinct honor of being the sole triple award-winner at the 2019 AEAs.
Its first award, Best Domestic Service, was given for its full-service concept wherein all domestic passengers enjoy fares that cover checked luggage, food, entertainment, blankets, and even locally sourced food and beverages, including complimentary beers and wines.
QF's second award, Best Lounges, was given in recognition of the airline's exemplary dedication to providing outstanding lounge service to all travel classes. Furthermore, the airline has made a multi-million dollar pledge to upgrade 85 percent of its existing network of over 70 lounges across the globe. Lounge members can expect top-notch cuisine, beverages, Wi-Fi, barista-prepared coffees, and much more.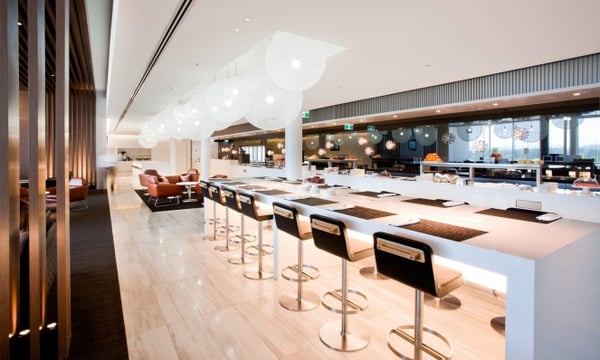 The Qantas Canberra lounge features lots of light, warmth, texture, and
has a beautifully opulent feel. (Source: Woods Bagot)
The airline's third and final award, Best Regional Airline, acknowledges the superior service that QF subsidiary QantasLink offers in its regional flights across Australia, between regional centers such as Adelaide, Brisbane, Canberra, Darwin, Hobart, Melbourne, and Perth. Even though some of these flights are quite short, the crew quickly and gracefully mobilize to provide food and beverage service. Domestic travelers are also able to check and pick up baggage at the door of the cabin. The airline is also quite involved in sponsorship and community activities.
QF operates with a fleet of 131 aircraft that provide connections to 65 domestic locations and 31 international destinations in 14 countries across Asia, Africa, the Americas, Europe, and Oceania. It also operates flight-seeing tours over Antarctica. It also has the honor of being the world's oldest continuously operating airline as well as being the third oldest airline in the world.

---

Most Improved Airline - Philippine Airlines
Fully devoted to worldwide growth, Philippine Airlines (IATA: PR) has successfully increased its international traffic by 60 percent in the past few years. The airline offers an extensive travel network throughout Asia and now flies to locations in Canada, the United States, and the United Kingdom. This expansion is due largely to its newly outfitted fleet of next-generation, fuel-efficient aircraft.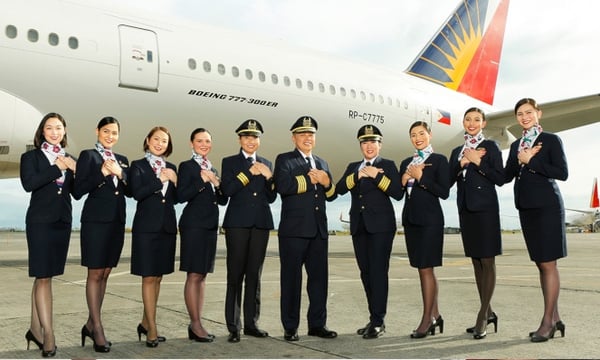 Philippine Airlines' attributes its culture of Buong-Pusong Alaga ("whole-hearted service")
as key to its recent airline achievements. (Source: Philippine Airlines)
Technology has allowed the airline to jetset far beyond the distance it was ever capable of flying before. The new fleet of aircraft have facilitated a vastly improved passenger experience, too. The airline's business class features layflat beds, adjustable seat firmness, built-in lumbar massage, and plenty of storage and power ports for personal items.
PR flies to 103 domestic and international locations with a fleet of 97 aircraft, including its subsidiary airlines.
---

Best Cabin Crew - Virgin Australia
For the third consecutive year, Virgin Australia (IATA: VA) has been awarded Best Cabin Crew by AR in addition to have been given a five-star rating by the Airline Passenger Experience Association (APEX) for the second year in a row this past September.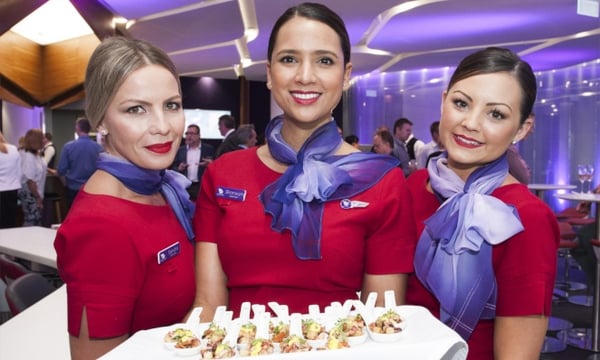 "Virgin Australia's cabin crew treat every passenger whether in row one or at the
back of the aircraft as a special guest," said Mr. Thomas. (source: Airline Ratings)
The cabin crew are subjected to rigorous screening and training to ensure that only the best of the best handle the airline's treasured guests. The service these flight attendants provide on domestic and international flights, regardless of service class, set a global standard for airline hospitality.
VA's 101 aircraft fly to 52 locations, primarily within their home region; however, they do offer some international flights to Asia, the Middle East, Oceania, and the Americas.
---

Best In-Flight Entertainment & Best Long Haul Airline, Middle East/Africa - Emirates
Emirates (IATA: EK) was another dual winner this year, having received both the Best In-Flight Entertainment and Best Long Haul, Middle East/Africa awards. EK has been a longtime winner of the former award whereas it scooped up the latter from last year's winner, Etihad Airways.
EK has been a leader in in-flight entertainment since 1992, long before it was ever on the radar of passengers or competitors. That year, it introduced seatback screens to all three flight classes - an industry wide first - as well as phones and fax machines just one year later.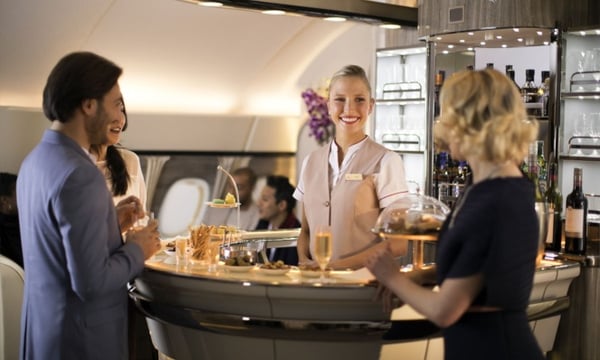 While Emirates' first class passengers are on long haul flights, they can partake in gourmet canapés, limited edition
fine spirits, signature cocktails, and more in the airline's signature Onboard Lounges. (source: Emirates)
Today, nearly 20 years later, there are almost too many entertainment options to name. Most economy seats come equipped with Wi-Fi, in-seat power, mobile and data services, up to 3,500 channels of digital multimedia content, and much more. You can get a full breakdown of what's offered per service class here, including a 3D tour of cabin interiors.
Commenting on the two awards, AR's Geoffrey Thomas said "Emirates has been an industry benchmark in cabin innovation and aircraft for years and dominates long-haul travel, with a level of service that only a few equal."
Dubai-based EK operates a fleet of 253 aircraft that make a combined total of more than 3,600 flights per week to 150 locations in 81 countries throughout Africa, Asia, the Americas, Europe, the Middle East, and Oceania.
---

But What Does It All Mean For Your Airline?
As Orville Wright said about the hopes and dreams of flight, "If birds can glide for long periods of time, then... why can't I?" In just 100 years, we've seen aviation transform from simple biplanes to enormous full-service flying hotels that can transport millions from New York to Singapore in less than one day. As we have seen time and time again, aviation is an industry where dreams come true.
So, if these airlines can soar above the rest... then what's stopping yours from joining the flock?
In business as in life, staying grounded and gaining perspective are immensely important - but so is dreaming big! We at InteliSys hope this list will inspire your airline to ascend to new heights. Whether you're operating a small regional airline or an enormous flagship carrier, ask yourself "What can I do to be the best at what I do? What can I do or what can I offer that will truly thrill my passengers?" We're here to help your grand aspirations lift off!
Would You Like to Stay Updated on InteliSys & Industry News?


Subscribe to our blog by clicking the button below and learn more about the airline industry and InteliSys Aviation. Our newsletter will keep you up-to-date on our latest blog entries, accomplishments, and special announcements. You can also find us on social media via LinkedIn, Twitter, Facebook, and our brand new Instagram account.