Saint John, NB —1 March 2021 — It is with great pleasure that InteliSys Aviation announces the winners of the 2021 Virtual Airline Growth Summit Awards, which took place on February 25th 2021. Four amelia airlines were honoured for their outstanding achievements across four categories: Most Innovative Airline Marketing Campaign, Humanitarian Excellence, Best Passenger Story, and the Jock English Memorial Award for Supremacy in Customer Service.
The Most Innovative Airline Marketing Campaign: Air Saint-Pierre
The French inter-island, charter and cargo airline Air Saint-Pierre won the award for the Most Innovative Marketing Campaign, for their creativity and out of the box thinking, by making their community part of their brand during their plane branding competition.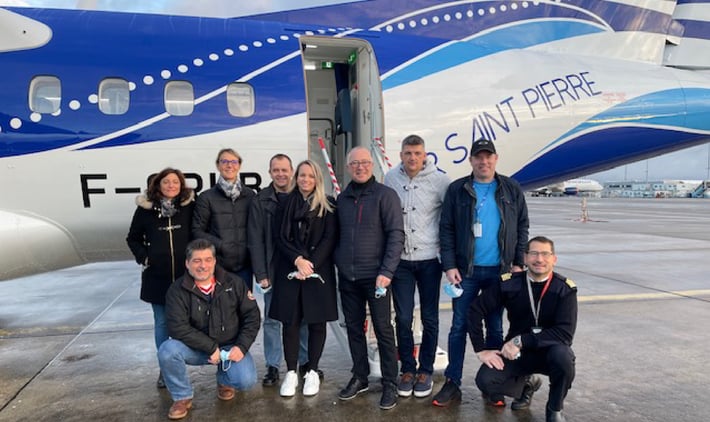 The Air Saint-Pierre Ferry Team
The airline took delivery of a new aircraft this past October. Instead of outsourcing the branding of their new plane, they involved the public in the project, launching a competition with a travel gift certificate as the grand prize. Designs were submitted and voted on, and finally a winner was revealed. In December the marvellous new aircraft was unveiled with its new branding created by a talented community member.
Finalists for 2021 Most Innovative Airline Marketing Award: Flair Airlines, Air Saint-Pierre and VietJet Air
The Humanitarian Excellence Award: Bearskin Airlines and Perimeter Aviation
Bearskin Airlines and Perimeter Aviation won the award for Humanitarian Excellence for raising more than $3 million for breast cancer screening, awareness and assessment through the Bearskin Airlines Hope Classic over the last 24 years.
Bearskin Airlines and Perimeter Aviation have given back to their communities in so many amazing ways and have made a big impact with their contributions. They have supported very important initiatives in a wide range of areas from: teaming up with local radio stations to make Christmas more special for youth; supporting local food bank programs; helping to increase the number of safe, inclusive spaces in their communities; and partnering with the Robb Nash Project to raise mental health awareness. They have raised money for a local Health Centre, provided Canadians in need with free travel to access medical care far from home, sponsored the NADF Awards that recognize Excellence in Aboriginal Business, and helped Books with Wings deliver 17,000 books to children.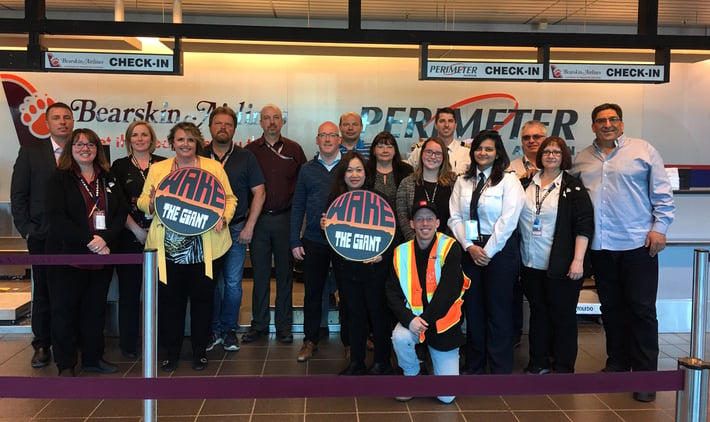 Some members of the team at Bearskin Airlines and Perimeter Aviation
Going into their 25th year of hosting their Hope Classic Curling Bonspiel, Bearskin Airlines has already raised more than 3 million for breast cancer screening, awareness and assessment. They are dedicated to making their community a better place and their impact is felt far and wide.
Finalists for the 2021 Humanitarian Excellence Award: Bearskin Airlines/ Perimeter Aviation, PAL and Air Choice One
The Best Passenger Story Award: Flair Airlines
For the second year in a row, Flair Airlines was recognized as the winner of the Best Passenger Story Award, following multiple customer reviews and stories of their airline team's commitment to customer service and delivery of consistent small acts of kindness that make all the difference to their passengers.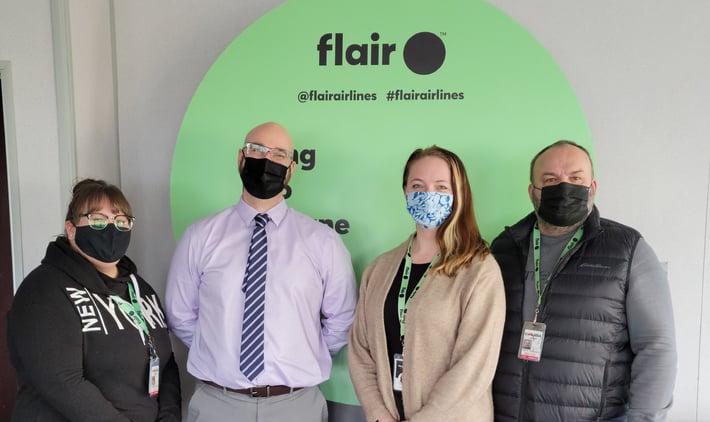 A few members of the team at Flair Airlines
Flair Airlines stood out with many stories outlining the friendly and gentle nature of service that they provide to travellers. These stories highlighted situations where passengers felt extremely cared for while travelling during difficult personal times as well as the exceptional support passengers received from members of the Flair team.
Finalists for the 2021 Best Passenger Story Award: Air Liaison, Flair Airlines, Lao Airlines
The Jock English Memorial Award for Supremacy in Customer Service: Air Choice One
Air Choice One was the recipient of the Jock English Memorial Award for Supremacy in Customer Service. While all award finalists were very deserving this year, Air Choice One stood out to the 2021 judging panel for their commitment to connecting with each of their customers; giving their attention to both complaints and raving remarks, making bad situations a little bit better and good experiences great.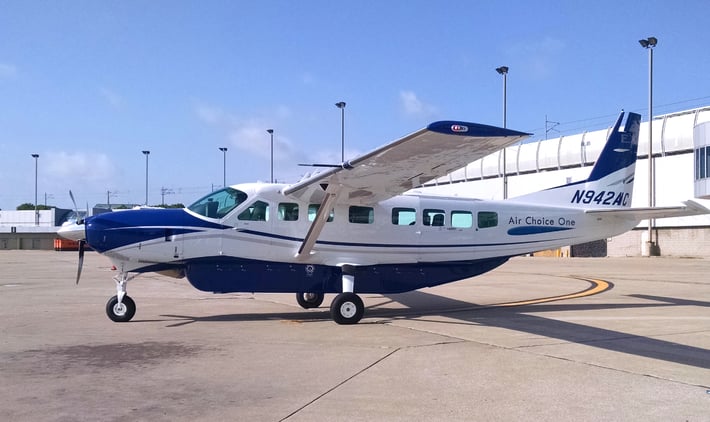 Air Choice One N942AC Aircraft
The owners at Air Choice One really demonstrate the importance of getting to know the story of each customer and connecting with them on a personal and vulnerable level.
This memorial award is very near and dear to the hearts of the InteliSys Aviation team. Jock English was the company's CEO from 2006 until 2012 when he tragically lost his fight with cancer. InteliSys CEO, Frank Kays presented this award explaining, "Jock put his relationships with clients first, and because of this, strong customer relationships were built between InteliSys and the airlines we worked with back then, and we try our best to continue in his footsteps today." In his honour, each year this prestigious award is given to a deserving airline who follows in Jock's passion for customer service.
Finalist for the 2021 Jock English Award: Pacific Coastal Airlines, Lao Airlines, Air Choice One
About the Airline Growth Summit
InteliSys Aviation's annual Airline Growth Summit is a powerful and informative two-day conference designed to help the global family of amelia airlines across three pillars of growth. Firstly, the Summit aims to expand the knowledge of attendees with presentations and training sessions, which help them grow their airlines and make the most of all that the amelia software suite has to offer. Secondly, it collaboratively engages airlines to take part in brainstorming and feedback sessions to ensure that amelia evolves to fit their unique wants and needs for years to come. Thirdly, the Summit builds the professional networks of each attendee by bringing them together face-to-face with the InteliSys team, aviation partners, and industry-leading experts.
About InteliSys Aviation
InteliSys Aviation is an established leader in airline passenger reservation and cargo management solutions. Boasting the world's first 100% cloud-based Open major PSS, InteliSys partners with airlines of all sizes and types in countries all around the world. By taking a traditionally closed and controlled ecosystem and opening it up, InteliSys' ameliaRES and ameliaCARGO software give airlines scalable tools to create, test and deploy new ideas that help them speed ahead of the competition in their markets.
To find out more about InteliSys Aviation, visit the company website: www.intelisysaviation.com.
InteliSys Aviation Systems Contact
Nikki Falavena
Director of Marketing
nfalavena@intelisysaviation.com