With 2018 drawing to a close, we at InteliSys are taking this opportunity to reflect on the people and events that have shaped us, our clients, and the airline industry worldwide. Listed below, you'll find this year's top five most popular blog articles.
We have been working hard for our clients, community, and to make waves in the aviation industry. During this past year, we've been extremely fortunate to have received acclaim for our team's efforts. On June 14, 2018, we were excited to be recognized as Exporter of the Year - Over $5 Million at the New Brunswick Export Awards.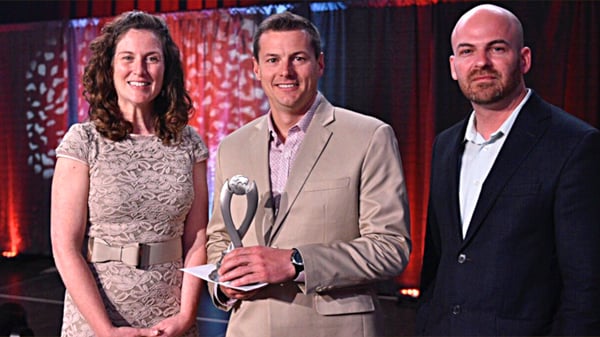 Our company president, Wayne Chamberlain, graciously accepting the Exporter of the Year Award at the ONB Export Awards.


"We feel like we're just getting started and that it's important that everyone in New Brunswick feels that way," InteliSys Aviation President Wayne Chamberlain said about our company and the burgeoning technology sector in Atlantic Canada, "and hopefully we all feel that there's so much more work left to do and that we have energy for the fight."
Ultimately, Wayne was right: our team at InteliSys was just getting started and we were honoured to received several other awards in the coming months.
---
Throughout the year, the scope of our clientele grew, and we were excited to welcome many new airlines including start-ups getting their first planes in the air and well-established airlines that switched providers to better suit their growing needs.
On May 22, 2018, we published a press release to keep you up-to-date with our activities over the previous year, which included welcoming 18 new airlines to the worldwide amelia family.
UK-based Firnas Airways is among the start-ups with whom we've been working recently: "The InteliSys Aviation team were flexible and understanding and we felt they appreciated our business model and our aspirations. We very much look forward to working with them for many years to come," said Kazi Shafiqur Rahman, the airline's Founder & CEO.
InteliSys' CEO, Frank Kays, commented on our company's success over the past year: "Things continue to move quickly and we expect the remainder of 2018 to be even busier than 2017. We continue to prove ourselves as prominent players in the airline start-up market and in helping existing carriers grow, tailoring the amelia system's experience to their unique needs."
---
Every year, InteliSys hosts the Airline Growth Summit, and this year's was the biggest and best yet - not to mention the subject of our third most popular blog entry of this year!
Representatives from 19 amelia airlines as well as nine partners and sponsors joined us in Montréal from October 22 to 25 for two full days of interactive presentations and activities from the InteliSys team and industry experts. Attendees were also able to book dedicated one-on-one sessions to take their amelia systems to the next level and ensure it's best configured to help their airlines grow.
During the Summit, 5 of our clients were presented with awards for milestones and accomplishments they achieved throughout the year.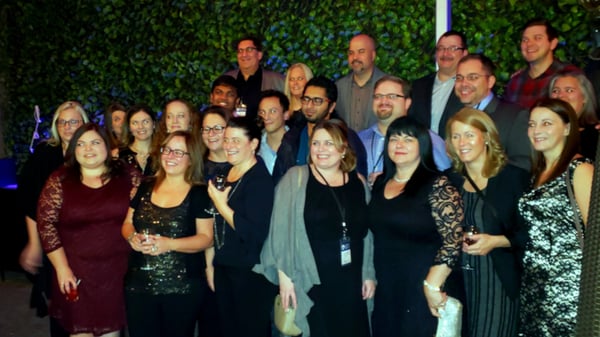 Some of the 2018 Airline Growth Summit attendees posing for a group photo during the awards gala,
which was held in Downtown Montréal's Time Supper Club.

The members of the amelia family are judged by our panel across five different categories and, considering the above-and-beyond work they do for their customers and communities, deciding on winners was a truly monumental task for this year's judges.
After much deliberation, the 2018 Summit winners were as follows:
---
Our second most popular blog entry on the top airline trends of 2017 was published in March 2017 and has held strong readership ever since.
As the airline industry evolves worldwide, it does so alongside rapidly advancing technology. Some of the items we reported back in 2017 - which included reservation automation, self-service, and more - laid the groundwork for more advanced airline and passenger solutions that are becoming commonplace in today's air travel experience. In-flight Wi-Fi, biometric security scanning, augmented reality, and robotics are among a few of the noteworthy airline and aviation trends of 2018. Each innovation grows exponentially from its technological predecessors.
Staying on top of industry trends and innovations should be a key element of your airline's business strategy, regardless of your airline's size or business model. Combining imagination and technology can allow your airline to surpass the wants and needs of your loyal customers as well as seriously boost your capacity to deliver.
---
Originally published nearly two years ago on March 29, 2017, our blog feature on the world's top ten richest airlines is both our most popular post of 2018 and has consistently remained our most viewed article of all time!
The global outlook for the airline industry is promising, to say the least. In fact, the International Air Transport Association (IATA) projected that for the tenth year in a row, the industry would see increasing profits to the tune of $33.8 billion USD.
But how do you determine which airlines are the best of the best in a booming, hyper-competitive market where so many providers offer a myriad of different products? One way is to examine their profitability.
We took that one step further in our 2017 piece on the world's richest airlines. We asked "What makes these airlines so successful? What do they offer that makes them stand out among the fierce competition?" That came down to looking at top ten airlines' product offerings, connections, fleets, and more.


---



Stay Tuned to InteliSys in 2019
Would you like to stay current with InteliSys and industry news in the coming year? Now it's easier than ever!
You can even subscribe to our monthly newsletter to receive direct updates regularly!