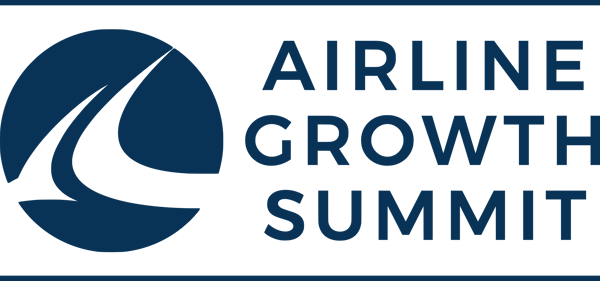 InteliSys Aviation is proud to announce the winners of the 2018 Airline Growth Summit Banquet Awards Ceremony, held on Tuesday, October 23, 2018. These remarkable airlines were recognized for outstanding achievements across four categories: Most Innovative Marketing Campaign, Best Passenger Story, Humanitarian Excellence, and the Jock English Memorial Award for Supremacy in Customer Service. One additional airline also earned special recognition for being a member of the amelia family for 15 years.
---
The Most Innovative Marketing Campaign Award: Flair Airlines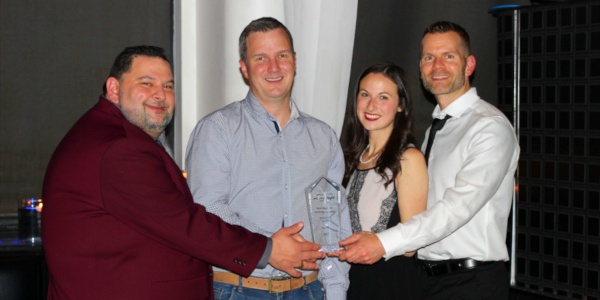 Flair Airlines' Rob Smithson, Head of Revenue & Distribution accepting the award with Intelisys' Frank Kays, CEO, Nikki Falavena, Director of Marketing, and Kristian Luck, VP Product Development.
Flair Airlines, an Edmonton-based low-cost airline, earned the Most Innovative Marketing Campaign Award for a heartwarming Thanksgiving social media initiative it launched this past October. The airline asked its social media networks what they were most thankful for this year and their followers responded with emotional stories. As a reward for heartfelt sharing, several people were awarded with free travel to help their holiday wishes come true:
Flair reunited two sisters with their brother, who was suffering from a brain tumor, for what might have been their last Thanksgiving together as a family;
They allowed two grandparents, one of whom is suffering with progressive dementia, to spend time with their grandchildren; and
Flair helped a father who had been working long hours away from home for months, pay his wife and children a surprise visit over the Thanksgiving weekend.
Since going live in August 2018, Flair Airlines has quickly transformed the way that passengers travel across Canada. This low-cost carrier has made air travel extremely accessible to a rapidly-expanding Canadian market. Its passengers are able to purchase inexpensive fares and pay only for the ancillary features they want, which allows for a personalized and affordable air travel experience.
---



The Award for Humanitarian Excellence: VietJetAir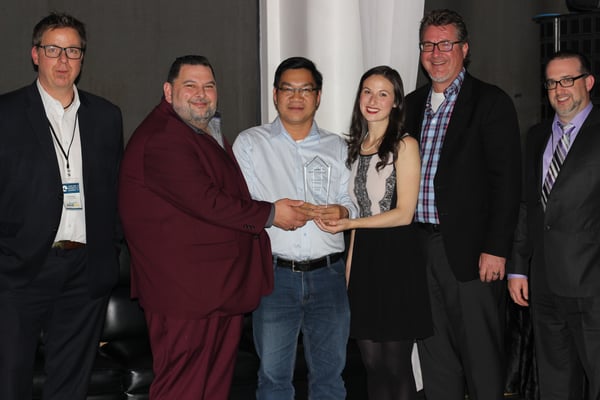 VietJetAir's Mr. Huynh Van Kim, Commercial Manager accepting the award for Humanitarian Excellence.
Also pictured are InteliSys' Steven Parent, Chief Customer Officer, Frank Kays, CEO, Nikki Falavena, Director of Marketing,
and Global Account Executives Spencer Smith and Curtis McGrath.
The Award for Humanitarian Excellence was created to honour an airline that truly exemplifies generosity by putting the communities it serves ahead of profits. This is an award meant for those airlines whose senses of compassion and social responsibility were truly amazing over the past year. VietJetAir earned this award for its multitude of philanthropic endeavors:
VietJetAir's Let's Clean Up the Ocean Campaign was designed to reduce water pollution caused by domestic waste across 28 coastal cities;
In the wake of the 2018 Indonesian earthquake-tsunami double disaster, VietJetAir provided seven tonnes of relief aid, including non-perishable foods, blankets, and other survival necessities for catastrophe victims; and
The airline is deeply invested in community educational initiatives, as seen through its 1,000 scholarships for children facing extremely difficult circumstances, the donation of air tickets worth the equivalent of $30,000 USD to a scholarship fund, and the Flying Dreams Program, which brings arts and culture opportunities to nourish the ambitions and instill humanitarian values among children.
InteliSys has had the utmost pleasure of working with VietJetAir since 2011. As a fledgling airline, VietJetAir had just one aircraft and now, only seven years later, they have an enormous fleet of 55 aircraft and transport over 25 million passengers annually. VietJetAir's brand continues to gain global recognition and they are fully committed to giving back to the communities they dutifully serve.
---
The Best Passenger Story Award: Calm Air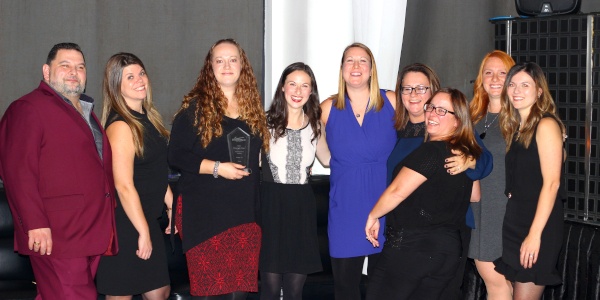 Representatives from Calm Air International accepting the Best Passenger Story Award from InteliSys'
Frank Kays, CEO and Nikki Falavena, Director of Marketing.
The Best Passenger Story Award recognizes an airline whose overwhelmingly positive social media reviews speak to its ability to deliver exceptional customer experiences. Calm Air International was recognized for this award for its ability to to transform difficult situations for its passengers. The airline had a particular flight that was diverted from Winnipeg to Gimli, Manitoba due to severe thunderstorms. There is no terminal in Gimli, so the passengers were held on the plane for five hours to wait out the storm.
"The crew were exceptional in dealing with the expected solution. Captain Corey even arranged for pizza to be delivered to feed us. Flight Attendant Wendy did a great job keeping her cool, providing snacks, water, and updates as the hours passed and the passengers became more uncomfortable and cranky. The pilots themselves went out in the pouring rain to refuel the plane, as no ground support was available. Thank you to the Calm Air Crew for your diligence in keeping us safe and trying your best to keep us comfortable."-- An online review left by an extremely satisfied Calm Air passenger
This is just one of many stories about how Calm Air goes above and beyond to care for its passengers. No matter what the circumstances, Calm Air always ensures its passengers have an unforgettable experience, making them feel secure and cared for from start to finish.
Calm Air is a full-service airline offering passenger, freight, and charter services throughout Northern Manitoba and the Kivalliq region of Nunavut. Their operations focus on the unique customer needs of of those living and working in remote Northern communities, including the necessity for medical travel, freight shipments of food, and passenger travel due to the inaccessible roads. They have also garnered attention last year for their Breathe Calm Air marketing campaign, which featured professional hockey player Jordin Tootoo.


---
The Jock English Memorial Award for Supremacy in Customer Service:




PAL Airlines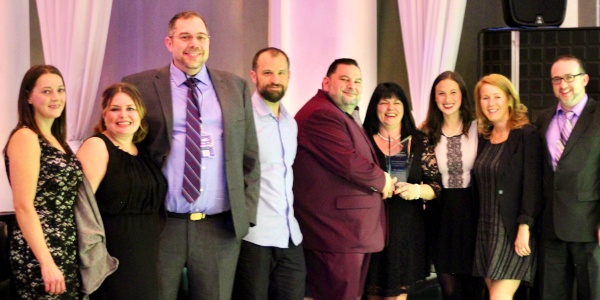 Part of PAL Airlines' wonderful team accepting the Jock English Memorial Award for Supremacy in Customer Service
with InteliSys' Kalyn Galloway, Product Manager, Frank Kays, CEO, Nikki Falavena, Director of Marketing,
and Curtis McGrath, Global Account Executive.
This award is reserved for an airline that truly exemplifies the intense passion for customer service that was possessed by the late Jock English, former CEO of InteliSys Aviation. This year, PAL Airlines was the recipient of this award, and it's easy to see why after reading the points below, which are just a few of the stories that show the marvelous degree of care PAL shows its passengers:
A baby traveling with its mother aboard a PAL flight broke out in hives immediately before departure, so the airline's team sent someone to a pharmacy so the mother would have the proper medicine for her baby upon arrival;
A puppy was shipped to the wrong location, so a PAL agent voluntarily contacted the intended recipients and ensured them that she would personally care for the puppy overnight and even kept them updated with phone calls and videos; and
One passenger was shocked to discover that he forgot a bag of his medication at the gate, so the flight's captain and first officer stopped and turned the plane around so a PAL agent could personally deliver the lost medication to its rightful owner.
PAL Airlines first took flight in St. John's, Newfoundland over 40 years ago as a renowned Canadian flight school. It has since evolved into one of the largest independent airlines operating in Eastern Canada. Its core values are centered around scheduled flights, charter, and air cargo services. They have earned a solid reputation for safety and service.
---
Special Recognition for 15 Years of Partnership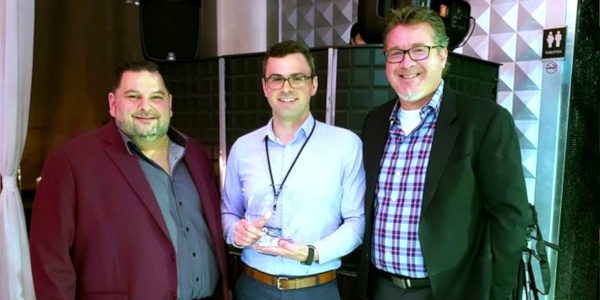 Pacific Coastal's Johnathan Richardson, Director of Marketing & Revenue Management accepting an award for
his airline for being a member of the amelia family for 15 years. Also pictured are InteliSys' Frank Kays, CEO
and Spencer Smith, Global Account Executive.
Pacific Coastal Airlines earned special recognition at this year's Summit Awards for being a member of the amelia family for an amazing 15 years. During that time, Pacific Coastal has grown to connect over 65 destinations and 16 airports across British Columbia. The airline offers scheduled, charter, and cargo services and takes exceptional pride in making flying safe and fun for customers and staff.
---
About the 2018 Airline Growth Summit Awards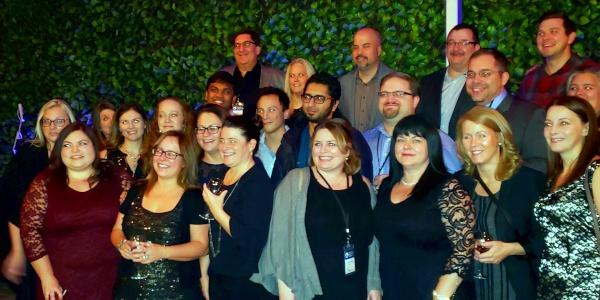 Attendees of the 2018 Airline Growth Summit Awards Banquet & Ceremony pose for a group photo
in Downtown Montréal's Time Supper Club.
Held in Montréal, Québec from October 22 to 25, the 2018 Airline Growth Summit was bigger, better, and more successful than ever before. The record-breaking number of attendees included representatives from 19 airlines and nine partners and sponsors. These eager participants engaged in two full days of interactive programs and presentations, one day of personalized one-on-one consultation sessions, as well as having had the unparalleled opportunity to network with fellow members of the extended amelia family. The goal of the Summit is for InteliSys, its partners, and clients to see individual airlines flourish and thrive while helping to grow the amelia suite of products. Together, InteliSys and its network of airlines are working together to transform the airline industry worldwide.
Learn More About InteliSys & the Airline Growth Summit
If you'd like more information on InteliSys Aviation and the Airline Growth Summit, subscribe to our blog by clicking the button below! You can also visit the InteliSys website as well as the Airline Growth Summit website.