Saint John, NB - 18 June 2019 - On June 13 at the 53rd New Brunswick Export Awards Gala, InteliSys Aviation received the Global Diversification Award, which was collaboratively hosted by Opportunities New Brunswick (ONB) and the Atlantic Canada Opportunities Agency (ACOA) at the Saint John Trade and Convention Centre in New Brunswick.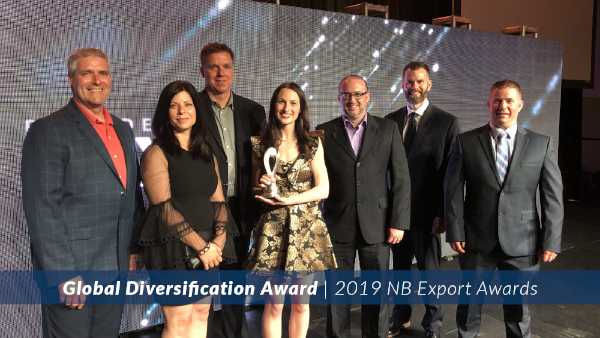 InteliSys Aviation's Director of Marketing, Nikki Falavena, accepted the Global Diversification Award on behalf of the company. She is seen above holding the award surrounded by members of the InteliSys team.
The Global Diversification Award is given in special recognition of companies who have excelled in opening markets beyond Canada and the United States, and honours the dedication and perseverance it takes to expand businesses at the global level. As an airline Passenger Service System (PSS) and Cargo Management System (CMS) provider, InteliSys exports its products and services to clients across the globe. InteliSys' clientele can be found in every major geographic region worldwide: Africa, Asia, Australia, Europe, the Middle East, and North and South America.
"One of the things that makes me the most proud to be part of the InteliSys team is our corporate culture. The values of the people on our team and the 'Never Settle' attitude that has continued to propel our company forward. We have built a culture of people who enjoy coming to work every day and enjoy even more the people they work with - and that is something I find truly special." - Nikki Falavena, InteliSys Aviation Director of Marketing
This was the second consecutive year InteliSys Aviation earned an award at the NB Export Awards Gala. In 2018, the company was recognized as Exporter of the Year in the over $5 million in export sales category.
It is always a great pleasure to see the global team at InteliSys recognized for the results we are producing for our airlines. It is only through the continued success of our airlines that InteliSys earn the right to serve more airlines. The work our team does to increase sales channels, improve the passenger experience, enable operation efficiencies, and assist with financial management all play parts in the growth that we and our airlines have experienced. We thank ONB and our customers for this recognition and are excited to welcome more airlines to our family soon." - Wayne Chamberlain, InteliSys Aviation President
The other winners named across four other categories are as follows:
Opportunities NB also presented its Impact Award to TD Bank Group and TD Insurance for significantly investing in the provincial economy over the past year.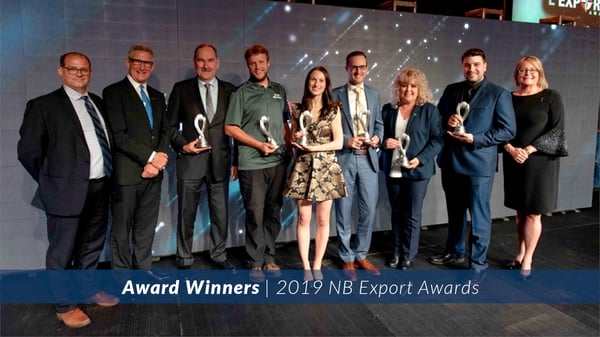 Nikki Falavena representing InteliSys as part of the winners' circle of the 2019 NB Export Awards at the Saint John Trade and Convention Centre on June 13 at the NB Export Awards in Saint John, NB.
About the Export Awards
---

Since 1966, the New Brunswick Export Awards have recognized excellence in the innovative and entrepreneurial spirit of local businesses in delivering their products to markets across the globe. The carefully selected panel of judges consists of private sector and academic experts whose intimate knowledge of the provincial business community is unrivaled.
For more information on the Export Awards, visit the event website: https://onbcanada.ca/exportawards/
About InteliSys Aviation
---

InteliSys Aviation specializes in providing airlines around the globe with customized, secure, and scalable software solutions in a cloud-based, open-data platform to help boost their revenues and cut their costs. With InteliSys' ameliaRES Passenger Service System (PSS) and ameliaCARGO Cargo Management System (CMS) software, millions of passengers and tonnes of cargo are moved every year by more than 45 clients spread across 6 continents.
InteliSys Aviation's amelia suite features greater than 99.99% system up-time, robust reporting tools, and passenger, cargo, and airport management systems that act as a critical means of connecting carriers to global audiences via their API suites and industry partnerships. InteliSys provides 24/7/365 support and caters to the specific needs of airlines of any size or business model, including low-cost, regional, and hybrid carriers as well as corporate flight operations.
Contact InteliSys Aviation

To find out more about InteliSys Aviation, visit the company website: www.intelisysaviation.com.
You may also reach out to the company directly via e-mail: info@intelisysaviation.com.