For the past two years, we have dedicated part of our annual Airline Growth Summit to formally recognizing the monumental efforts amelia airlines, as they innovate, put passengers before profits, demonstrate exemplary generosity of spirit, and deliver the utmost care to their valued customers.
Join us as we look back on the past winners of the Summit Awards!
Most Innovative Marketing Campaign
The Most Innovative Marketing Campaign Award is bestowed upon airlines that harness creativity and innovation to grow exposure in their market and increase ticket or ancillary revenue sales.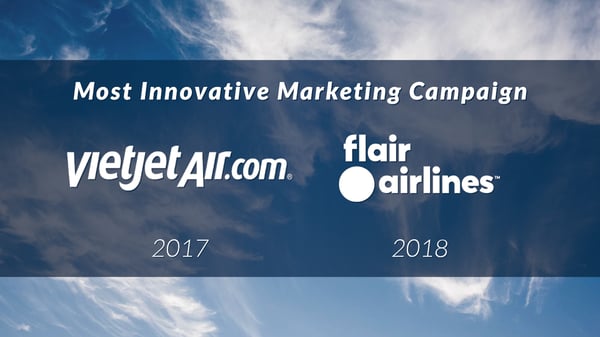 2018: Flair Airlines
The Canadian low-cost carrier Flair Airlines earned this award for a heartwarming initiative it launched in time for Thanksgiving, which asked that social media followers share what they are most thankful for. Flair awarded some participants with free travel to help make their holiday wishes come true, including the following:
A father who worked long hours aboard was reunited with his wife and children,

Two sisters were able to spend their final Thanksgiving with their brother, who had a terminal brain tumor, and

Two grandparents, one of whom suffered from progressive dementia, were able to spend valuable time with their grandchildren.
2017: VietJet Air
In 2017, Vietnamese hybrid carrier VietJet Air ran its biggest zero-dollar seat sale to date. But this was no ordinary seat sale for VietJet. Typically, the airline's seat sales last for two hours; however, this one was promoted for an entire day! During this 24-hour window, the airline astoundingly took more than 221,000 bookings.


Humanitarian Excellence
The Award for Humanitarian Excellence is presented to an amelia airline whose charitable spirit and sense of social responsibility are truly exemplary. Winners of this award are truly invested in the communities they dutifully serve.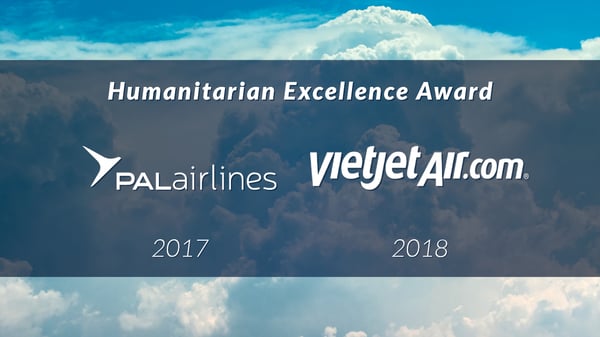 2018: VietJet Air
Throughout 2018, VietJet Air's philanthropic efforts were extraordinary. From environmental incentives to natural disaster relief to providing educational opportunities for youth and more, VietJet was saintly in its sense of social responsibility.
The airline's Let's Clean Up the Ocean campaign was created to reduce water pollution caused by domestic waste across 28 coastal cities,

VietJet donated seven tonnes of relief aid to the victims of the 2018 Indonesian earthquake-tsunami double disaster, and

It provided funding for 1,000 scholarships to economically disadvantaged.
2017: PAL Airlines
Newfoundland and Labrador's PAL Airlines was the 2017 winner of the Humanitarian Excellence Award for the innumerable ways it constantly and consistently gives back to communities in Atlantic Canada.
PAL hosts the Kite Festival and donates the proceeds to community organizations each year.

Other charitable outreach programs that PAL participates in include Ronald McDonald House, Young Adult Cancer Canada, and the carrier donated 225 pounds of food to CBC Feed Nova Scotia and helped transport 1,110 pounds of cargo on behalf of the Canadian Red Cross, and

The airline also lent a hand on the ground to assist with the flood efforts in Mud Lake.
Best Passenger Story
The Best Passenger Story Award recognizes an airline whose overwhelmingly positive social media reviews speak to its ability to deliver exceptional customer experiences. Winners of this award embody the values of what it takes to transform everyday customers into loyal, lifelong passengers.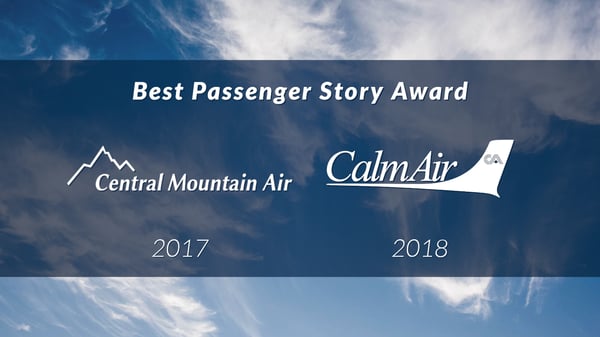 2018: Calm Air
Calm Air International was recognized for this award following a difficult situation where a flight that was diverted from Winnipeg to Gimli, Manitoba due to severe thunderstorms. There is no terminal in Gimli, so the passengers were held on the plane for five hours.
"The crew was exceptional in dealing with an unexpected situation. Captain Corey even arranged for pizza to be delivered to feed us. The flight attendant, Wendy, did a great job keeping her cool, providing snacks, water, and updates as the hours passed and the passengers became more uncomfortable and cranky. Thank you to the Calm Air Crew for your diligence in keeping us safe and trying your best to keep us comfortable."
2017: Central Mountain Air
An exceptionally touching passenger review earned Canada's Central Mountain Air the 2017 Best Passenger Story Award.
"I booked this flight from Quesnel to Comox for my father, who is having cognitive difficulties and I was worried about him making his connection in Vancouver. I contacted CMA and they made a point to call me back to discuss the situation and then ensured someone would be there to make sure my father didn't feel lost and got on the right plane! I was so impressed."
InteliSys is proud to recognize Central Mountain Air for the exemplary way in which it treats its passengers. The airline provides above-and-beyond care to its customers.


The Jock English Award for Supremacy in Customer Service
The Jock English Memorial Award for Supremacy in Customer Service is very close to the hearts of the InteliSys team. Jock English was the CEO of InteliSys from 2006 to 2012, when he tragically lost his fight with cancer. To honour him, this award is reserved for an airline that truly exemplifies an intense passion for customer service.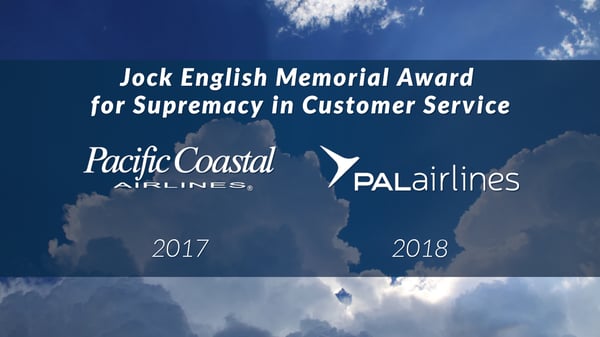 2018: PAL Airlines
PAL Airlines was the recipient of this award, and it's easy to see why after reading the points below, which are just a few of the stories that show the marvelous care PAL shows its passengers.
A baby travelling with its mother aboard a PAL flight broke out in hives immediately before departure, so the airline's team sent someone to a pharmacy to pick up the baby's medicine.

A PAL agent voluntarily cared for a puppy that was shipped to the wrong location, contacted the intended recipients, and kept them updated with phone calls and videos.

A passenger forgot his medication at the gate, so the captain and the first officer stopped, turned the plane around, and a PAL agent personally delivered the lost items.
2017: Pacific Coastal Airlines
Pacific Coastal received many touching reviews in 2017, as the airline assisted people who were displaced by the British Columbia bush fires. But the judging panel highlighted a passenger story that stood out in particular:
"Thank you so much for taking such good care of my daughters for their first flights without a parent! Flying an 11- and 13-year-old amid forest fires and evacuation alerts was nerve-wracking, but you all made it seamless and safe. Having someone greet them for a flight change especially eased the anxiety of nervous mom."

Is Your Airline Attending the Summit?
From October 21 to 24, InteliSys Aviation will be hosting the 2019 Airline Growth Summit in Montreal, Quebec. Don' t miss this opportunity to meet with the movers and shakers of the industry — and maybe even win an award, if you apply before October 1!
Nominate yourself or another airline by clicking the button below!



The Summit is carefully designed to attract members of the global family of amelia airlines and beyond on the system's capabilities, product updates, and best practices to ensure they are maximizing their PSS and CMS systems. Attendees also benefit from an unparalleled opportunity to network with other airlines and InteliSys Aviation face-to-face in order to help shape the future of the amelia product roadmap. For more information, please visit the event website: www.airlinegrowthsummit.com.
Read More About the Summit & Past Winners