Montreal, Quebec —24 October 2019 — It's with great pleasure that InteliSys Aviation announces the winners of the 2019 Airline Growth Summit Awards, which were hosted at Hotel Nelligan in Montreal on October 22nd. Four amelia airlines were honoured for their outstanding achievements across four categories: Most Innovative Marketing Campaign, Humanitarian Excellence, Best Passenger Story, and the Jock English Memorial Award for Supremacy in Customer Service. Additionally, a fifth amelia airline was recognized for flying more than one million passengers since its start-up in 2016.
The Most Innovative Marketing Campaign Award: VietJet Air
The Vietnamese hybrid carrier VietJet Air won the Most Innovative Marketing Campaign Award for the successful launch and spectacular reception of its large-scale Summer Cosplay Photo Competition. In this social media contest, participants were encouraged to share photos of themselves dressed up in creative costumes and celebrating summer to the fullest.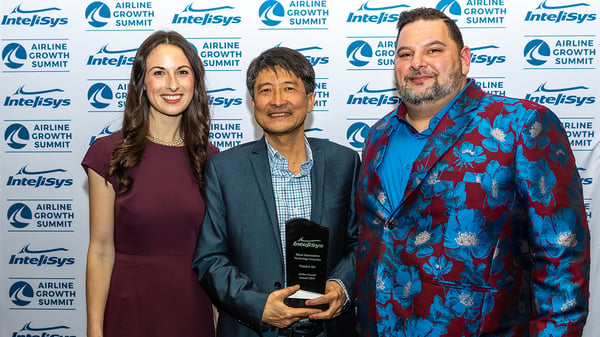 Pictured above are InteliSys Aviation's CEO, Frank Kays, and Director of Marketing, Nikki Falavena presenting the Most Innovative Marketing Campaign Award 2019 to a representative of VietJet Air.
The airline judged the photos and distributed awards based on aesthetics, creativity, popularity, and the incorporation of the airline's brand into the participants' costumes. In conjunction with the hashtag, #ShowYourSummerVersion, the campaign caught the attention of celebrities, musicians, and social media influencers who were able to take the carrier's brand far and wide.
The Humanitarian Excellence Award: PAL Airlines
Newfoundland's PAL Airlines was the winner of the Award for Humanitarian Excellence for the compassion and care it demonstrated in the ongoing support of a multitude of charity initiatives over the past year, which included the following: Make a Wish Foundation, Ronald McDonald House, Canadian Cancer Society, Heart and Stroke Foundation, the Kids Eat Smart Gala, the Indigenous Games, the Women in Mining Symposium, St. John's Pride, and many more.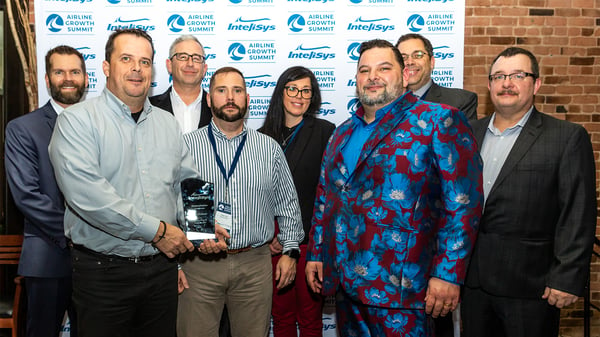 In this photo, members of the PAL Airlines team are accepting the Award for Humanitarian Excellence 2019 from InteliSys Aviation's CEO, Frank Kays, and Kristian Luck, VP Product Development.
In time for Christmas last year, the airline donated more than $25,000 to children's charities. PAL Airlines even took a plane full of children on a magical flight to the North Pole.
The Best Passenger Story Award: Flair Airlines
Flair Airlines was given the Best Passenger Story Award following a glowing review it received in an interview on April 2nd, 2019, between Angela Gough and Global News. Gough spoke about the difficulties of travel for autistic individuals and their families.
"There are crowds, lineups are particularly hard, anything out of the ordinary — having to stand still, lots of strangers, different food. It can be very difficult and for a couple of years post-diagnosis, we just didn't [fly] … It takes a lot of stress off the family to not feel like everything has to go perfect, like we can't have a meltdown and be in a plane thousands of feet in the air," Gough said.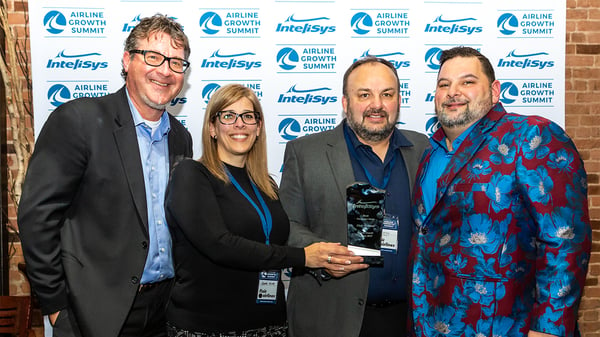 Pictured above are representatives from Flair Airlines accepting the Best Passenger Story Award 2019 from InteliSys' CEO, Frank Kays, and Spencer Smith, Global Account Executive.
On April 1st, 2019, Flair announced that all of its flight attendants had been trained on how to assist autistic passengers with their travel experiences, making it Canada's first autism-aware airline. To further assist these people, the airline hosted a mock travel day at Edmonton International Airport to promote familiarity and reduce the anxieties of autistic travellers and their loved ones.
The Jock English Memorial Award for Supremacy in Customer Service: Pacific Coastal Airlines
For the second time in three years, Pacific Coastal Airlines was the recipient of the Jock English Memorial Award for Supremacy in Customer Service. Pacific Coastal was recognized for the ways in which they consistently provide superb customer experiences in all types of situations. The airline's social media is filled with positive reviews and shining examples of how their flight staff and reservations crew constantly deliver exceptional service to their passengers.
"We had a family emergency and had to change flights, re-book, and pay on very short notice," one extremely satisfied passenger commented. "The lady at the check-in did a refund of the extra ticket for us extremely well, she didn't have to, but she went outside the box to help us — now that is service."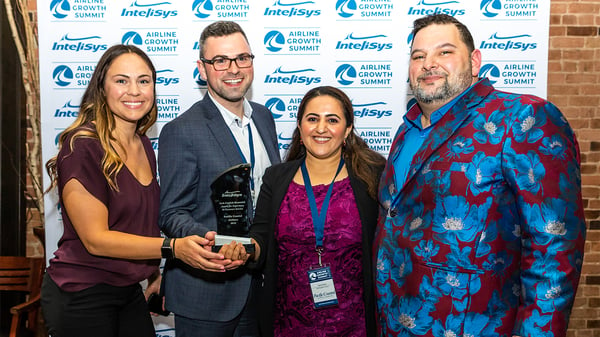 British Columbia's Pacific Coastal Airlines won the Jock English Memorial Award for Supremacy in Customer Service for the second time in three years. Representatives from the airline are pictured above with Frank Kays, InteliSys Aviation CEO.
Even during irregular operations, Pacific Coastal handles its passengers with masterful care. After being bumped from a flight due to poor weather conditions, one passenger left a positive review about how the airline turned the stressful situation around: "Excellent customer service! We were … bumped off [our] flight due to some uncontrollable issues: low visibility and bad wind direction. This was very unfortunate for us but we were very appreciative of the accommodation from the staff. They took care of all we were worried about and made great arrangements to compensate for the delay. We were very happy with the flight and welcoming staff."
This memorial award is very near and dear to the hearts of the InteliSys Aviation team. Jock English was the company's CEO from 2006 until 2012 when he tragically lost his fight with cancer. To honour him annually, this award is reserved for airlines that truly exemplify his intense passion for building strong relationships and providing exceptional customer service.
Special Achievement: Ernest Airlines Flies Over One Million Passengers
Ernest Airlines, a low-cost carrier headquartered in Milan, Italy, earned special recognition for reaching an important milestone: it flew its millionth passenger on April 9th, 2019. Ernest joined the amelia family of airlines as a start-up in 2016. In the short time since, it has found success by breaking into previously untapped niche markets within Europe that have high demand but low supply for accessible, affordable business and leisure travel.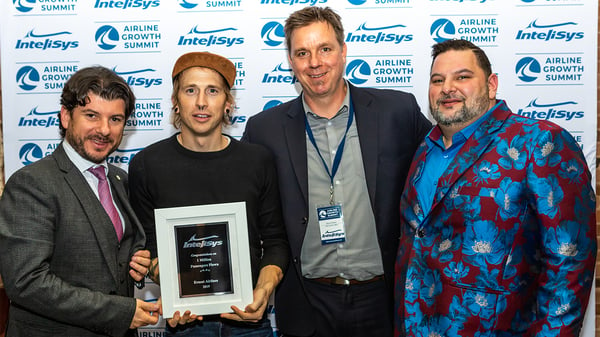 Ernest Airlines was formally recognized for exceeding one million passengers flown since its start-up in 2016. Pictured above are Ernest's Steven McCrumb, Head of Digital Innovation & Brand Manager, and Arbi Xhelo, Network & Charter Sales Manager, accepting their award from InteliSys' Frank Kays, CEO, and Steven Parent, Chief Customer Officer.
Ernest currently offers direct flights from more than 10 airports across Italy to Albania, Romania, Spain, and Ukraine. The airline experienced 50 percent growth throughout 2019, thanks to an increase in its fleet size, the opening of new international routes, and increased charter flight activity with tour operators.
About the Airline Growth Summit
InteliSys Aviation's annual Airline Growth Summit is a powerful and informative two-day conference designed to help the global family of amelia airlines across three pillars of growth. Firstly, the Summit aims to expand the knowledge of attendees with presentations and training sessions held by aviation experts, which help them grow their airlines and make the most of all that the amelia management software suite has to offer. Secondly, it collaboratively engages airlines to take part in brainstorming and feedback sessions to ensure that amelia evolves to fit their unique wants and needs for years to come. Thirdly, the Summit builds the professional networks of each attendee by bringing them together face-to-face with the InteliSys team, aviation partners, and industry-leading experts.
To learn more about the Summit, please visit the website: www.airlinegrowthsummit.com.
About InteliSys Aviation
InteliSys Aviation is an established leader in airline passenger reservation and cargo management solutions. Boasting the world's first 100% cloud-based Open major PSS, InteliSys partners with airlines of all sizes and types in countries all around the world. By taking a traditionally closed and controlled ecosystem and opening it up, InteliSys' ameliaRES and ameliaCARGO software give airlines scalable tools to create, test and deploy new ideas that help them speed ahead of the competition in their markets.
To find out more about InteliSys Aviation, visit the company website: www.intelisysaviation.com.
InteliSys Aviation Systems Contact
Nikki Falavena
Director of Marketing
nfalavena@intelisysaviation.com