We have to admit it: the world has changed a lot! In 2017 we are living in a technologically advanced society like none that has ever existed before. Now, you can complete tasks in a fraction of the time it used to take; like ordering your dinner via a food app or booking an appointment with your doctor right from your iPhone. The presence of technology can be felt everywhere, and its influence is continuing to grow each day.
The airline industry is experiencing this transformation first hand! Modern airlines are adopting the digital revolution in an effort to win over customers. This translates into a better travel experience for air passengers across the globe, but what will airlines roll out in the near future? Let's take a look at the most influential airline technology trends that will have significant impacts in 2017.
Internet of Things (IoT)
According to Gartner, there will be 25 billion connected devices by 2020. The Internet of Things (IoT) is the concept of connecting all physical objects via a network. This concept is already helping the aviation industry as modern airlines are using IoT to offer the best customer service possible and to make their flights more efficient, safe, and enjoyable for the passengers.
So, it's no surprise that IoT will generate many benefits for airlines in 2017. There are a number of examples of this concept's success already. A great example being VietJet implementing the first airport check-in kiosks in Vietnam, simplifying the lives of their airline passengers.
Automation in the Aviation Industry
Automation has allowed airlines across the globe the chance to optimize their services. For air passengers, automation means a faster, more convenient travel experience with minimized tedious manual processes.
There are many areas of the aviation industry that can be streamlined with automation. However, the most important of them include: passenger reservation, ticket processing, cargo management, and in-flight services.
Automation is already occupying a large space in the airline industry and it will only be increased in 2017. For instance, ameliaRES Airline Passenger Reservation system has enabled Vieques Air Link (VAL), to make everything ticketless and passengers only need their confirmation or any type of ID at the time of check-in. Within 45 days of the ameliaRES implementation, 20% of VAL's reservations were made through the web.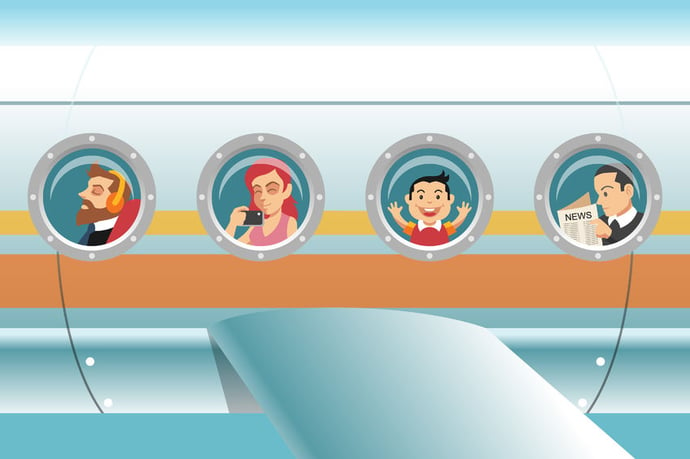 Virtual Reality (VR)
Virtual Reality (VR) is another important technology that is going to make travelling more fun in 2017. This can be considered as another important avenue for airlines to collect data on customers. It also gives airlines a competitive edge when crafting offers.
Australian airline Qantas has already taken a lead on this concept. Qantas has recently started to offer e-devices to their passengers on the flights and passengers can be entirely busy in enjoying games, movies, and more – all from 40,000 feet up in the air. The success of Virtual Reality with Qantas means other airlines are certain to follow the same in 2017.
Big Data
With Big Data technology, modern airlines can accomplish loads of activities. With Big Data, tasks such as sending tailor made offers to customers in real-time becomes easier (just by keeping track of details such as the customer's purchase history, travel itineraries, search tendencies etc.). Big Data can also help airlines to detect the most efficient flight path that is less time consuming, safe, and saves on fuel! American carrier United Airlines is a great example of an airline that has already successfully implemented Big Data for individual customers.
It's really amazing that technology has taken the lead for everything in the sky. It's not crazy to think that technology is going to control every aspects of commercial space transportation in the coming years.
Stay tuned, since the airline industry is only going to get better in 2017 as technology continues to rapidly improve and advance!

If you liked this blog, you might be interested in reading: Big Data and The Travel Industry The Top 10 Aviation Technology Innovations in 2016 or Top Airline Trends to Expect in the Future